Our Mission
Costanzo Brewing Consultants' (CBC) mission is to assist micro brewers and home brewers to improve their skills and knowledge, and, by using good brewing practices, brew quality beers on a consistent basis.
Its main mission is to;
So catch the current wave of growth in the craft brewing industry and learn how you can be part of it. Live the dream and let us help you do your job better!
My Vision for the Craft Beer Industry
The craft Brewing Industry is relatively new in Australasia and is now well established.
However, it's been a somewhat bumpy road and the quality of bottled beer is variable at best.
Many people think of quality as meaning a better tasting beer. While this may be true it is not the full answer. And in any case better tasting is subjective and depends on culture, personal preferences and idiosyncrasies.
The world dictionary says " The standard of something as measured against other things of a similar kind; the degree of excellence of something:an improvement in product quality."
But I go one step further and define quality in terms of consistency and the way to achieve it.
It's my vision to empower those in the craft brewing industry wanting to seek means of making better beer on a consistent basis. Hence in 2008 CBC was born to spread the word about making even better beer but more importantly have that beer taste and smell the same for an extended period of time.
At a presentation delivered to the Victorian Association of Microbreweries Inc. (VAMI) in 20 07 we introduced a new service to provide a unique, good valued analytical services;  a means of monitoring quality and consistency in the microbrewery, previously unavailable in Australasia.
Other services offered followed, including the only widely available popular short brewing courses in Australasia and availability of expertise to helping to establish your own microbrewery the right way.
These services are available to the homebrewer, some of whom ultimately become microbrewers, and also for the existing microbrewer who wishes to go the next step and produce consistent beer.
---
Vincent Costanzo (B.Sc., M.Sc.) Profile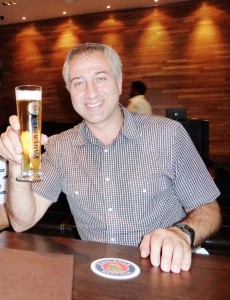 Education
Vince graduated in 1979 in chemistry at Monash University and then completed a Master of Science degree in organic chemistry.
Beer Brewing Experience
over 3 decades experience in the food and beverage industry, the majority in the beverage industry

joined Foster's Brewing Group (CUB) in 1986 gaining brewing skills, appointed Shift Manager and worked in Quality Improvement as a Senior Scientist

made process improvements which ultimately saved CUB millions of dollars; the work included increasing shelf life and consistency of beer. As an acknowledged world leader in beer haze and particle formation control, he was invited to make a

presentation at the Victoria Falls Institute of Brewing (IOB) Conference in 1995.
Expertise in Flavour and Visual Integrity
The continuation of Vince's work led CUB in opening up new markets domestically and around the globe, including Japan, Asia, the Middle East, Great Britain and the Americas

The concept of Carlton Cold beer in clear bottles was brought into reality as a consequence of this stabilization development work

Anyone looking at the larger domestic and International market would greatly benefit from Vince's insights into flavour and visual integrity
Pivotal in Craft Brewery Establishment
joined the craft brewery Stockade i

n 2001

playing a significant and pivotal part in the establishment of the  brewery and its laboratory

shared the brewing responsibilities and brewed the Internationally awarded Stockade Pilsner and instrumental in setting up and running the filtration and stabilization unit which resulted in one of the most stable beers in Australia

appointed Head Brewer in 2004 and brewed some famous brands of beer under contract, such as Matilda Bay brands, St. Arnou, Brewtopia, Pikes, Hogs Breath and in addition designed and brewed Chopper Heavy Lager for "Chopper" Reed
Microbrewery Consultant and Brewing Teacher
involved in setting up the Flying Horse Brewery in Warnambool, Freshwater brewery, Mornington brewery and Stark brewery in Bali

In 2007 taught brewing at NMIT TAFE College, then at RMIT, Keg King, and Holmesglen Tafe

In 2009 set up and ran the famous

5 day advanced brewing course

in Sydney, then Melbourne, Perth, Brisbane, Wellington and Auckland

In 2008 set himself up as

brewery consultant

to advise and install equipment in Australasian microbreweries advising how to improve the processing and consistency of their beers, their quality and their bottom line
Vince is well versed to advise from a quality perspective and can professionally advise what the disadvantages/advantages are in the many types of brewing equipment available. The advantage of this is that equipment supply by CBC is not tied to one supplier or brand but depending on the customers needs and budget CBC can custom design the appropriate brewery for the client, and not retrofit a particular brand to the client.
So feel free to consider the steps needed before making a commitment on any particular system.
We are so confident with the outcomes that not only do you have a satisfaction guarantee but the investment you make will be recovered from efficiencies and consistent quality and sales in the first 3 years.