Do you want to develop a beer recipe so that you can produce a test batch  but don't know where to go? Are you wanting to contract brew or even start a microbrewery so that the recipe(s) developed can be brought to market?
Well Costanzo Brewing Consultants offers a service to develop, brew and taste test a recipe style you may have in mind. With many years experience developing beers both commercial and pilot size you can feel secure that a good result will be had.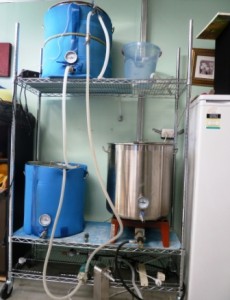 Nano-brewery
The set up involves using a 50L nano-brewery to produce up to 3 beers at a time with varying yeast strains.
You then choose the one that closely matches your desired style and flavour.
This is definitely the most cost effective way to develop a beer without having to do a test batch on a microbrewery size. Save thousands of dollars and get 3 times the number of flavours all from one small batch.
Once you have decided on the batch you like then leave it to us to get it upscaled to a microbrewery size under contract. We do all the planning, production and quality issues addressed so that the first production batch is as close a match as possible.
Contact us for further information and ask for a detailed costing of your project.