What others are saying about Vincent Costanzo
It is gratifying to see what students and brewing clients have said about us, below. Why not talk to some of them directly by phoning them on the following numbers.
Daryle Cook and Craig Dunsdon (Starting a Microbrewery), Newcastle Masterbrew Course, July 2015, +61 (0)408641371
Frederick Oberholzer- Manufacturing Superintendent, Sydney Masterbrew course, 22/7/2014, +61 (0)408 462 881
John Szucs – engineer, Sydney Masterbrew course, 5/5/2014, +61 (0)478 875 714
James Kostarakis- Melbourne Introductory Extract course, 3/3/2014, +61 (0)413 550 208
Evan McGinty – Melbourne Introductory Extract course 16/11/2013, +61 (0)403 425 126
Chris Ormond, Wellington Masterbrew Course 21/8/2013, +64 (0)274833321
Read more
The Masterbrew Course was everything I was hoping for and more. I was a bit unsure how it would go over Zoom but it didn't disappoint. Recommend 100% for anyone who can't make it to the city for the normal 4 day course, Scott, Zoom Masterbrew course, 2020
---
Fantastic course. Vince delivers an easy approach to understanding the methods behind brewing. Great for beginners or like me have been brewing for over 10 years and did benefit immensely from the course.- Scott McInnes , Brisbane Masterbrew Bootcamp Brewing Course , July 2018
---
Great course what can I say, its jam packed and covers a vast amount of content in 4 days. The hands on brew day was great and the brewer was happy to share as most craft brewers seem to be. Vince has a lifetime of knowledge and experience and is now sharing that with us. Best course I have done was well worth it.-Brian Bedding, Brisbane Masterbrew Bootcamp Brewing Course , July 2018
---
If you are thinking about brewing beer and want to do it the right way, then you must do this course. I have a back-ground in wine making and I wish they had a course about wine making as good as what Vince conveyed over 4 days. The course was packed solid with absolute gems of information and I walked away incredibly confident that I knew exactly how to make excellent brews, not once, but consistently every time. Good job Vince and I look forward to buying your book when you get around to writing it !- Sean Glasson- winemaker, Melbourne Masterbrew course May 2018
---
I rated the course 10/10.
As I learnt more than I had imagined, from the basic stages of beer making through to the pro's and con's of how to do all the steps and what outcome would happen. I would highly recommend this course.
-Nestor Prozenko (Watters Electrical), Melbourne Masterbrew Course, September  2016
---
Vincent,
Thank you for a extremely great course that you ran over the last four days. It is packed with a lot information and it enabled myself to really understand the processes and tie it in all together. With great other fellow students from around the world.
I will be in touch soon to get your help in the future brewery build.
A big thank you and well done.
-Paul Duggan (FINSA. NuBio – Natural), Sydney Masterbrew Course – March 2016
---
I feel like my enthusiasm has only grown since doing your course. On my way home I met with the managing director from 'Good George' (brewery) and have lined myself up with a job. He did mention that the job will be nothing glamorous, probably working on the bottling line, but if I am to show intuitive will quickly make my way up. I'm happy about this… I want to know all the ins & outs of the whole procedure and think that this is the best place to start. So all good for the immediate future.
-Elton Ward, Auckland Masterbrew Course – October 2015
---
Thank you so much from Craig and I for this last week. The course provided every and more than we expected. We have come away with a fountain of knowledge and enthusiasm – thank you for that. We spent the trip home going over our notes and discussing (and writing down) ideas and concepts.  Thank you for opening our eyes.
-Daryle Cook and Craig Dunsdon, Newcastle Masterbrew Course – July 2015
---
Just a short note to say how much I enjoyed your course this week. The information that you provided was really well presented and I thoroughly enjoyed it.
It gave me a great insight into not only improving my brewing at home but also some of the problems that are experienced at larger breweries, like the day we visited Hawkers Brewery. Water chemistry and quality and waste water management.
-Richard Coombe, pharmacist, Melbourne Masterbrew Course – 21/05/2015
---
10/10. Well suited to my requirements.
-Wayne Stephens, Melbourne one day Course – 17/02/2015
---
Thanks again, I learnt so much over the 5 days and really enjoyed getting to see how two very different microbreweries work!
I caught up with a friend on Tuesday night after finishing the course, we were chatting at length about homebrewing and craft beer in general. Anyway, I paused at one point and realised just how differently I looked at homebrewing and craft beer after doing your course. I have gained so much knowledge in such a short period, it's fantastic…I've already been re-reading my notes, to retain it!
– Andrew McRae, Melbourne Essentials & Masterbrew Courses – 25/09/2014
---
I just wanted to start by saying thank you for such a great course you recently ran in Perth. It has helped my homebrewing and the positive feedback has been all the evidence I need. I am now designing beers according to the BJCP guidelines in hope to create a great lager and a pale ale ready for entering into next years Perth royal show beer competition.
-Elliott Snowden, Perth Masterbrew Course – 14/08/2014
---
VIDEO: Learning Makes You Smarter
See what Paul Wicksteed from Wellington has said about The Masterbrew Course– August 2014
---
Hi Vince,
Many thanks for the info that you sent, I have been screening through the course material and a lot that I missed at the time is now coming back to me and I am starting to get a better understanding of a lot of the information as I go along, I will keep you up to speed with my plans as they develop.
Thanks for an very intensive course that you presented, and I am really glad that I never put it off for another occasion, I have done it and now its all about advancing to the next step, my wife is really excited and is very keen for me to venture out of the box! 10/10
Watch the space for Oberbrew!
Cheers,
-Frederick Oberholzer, Manufacturing Superintendent, Sydney Masterbrew course (22/7/2014)
---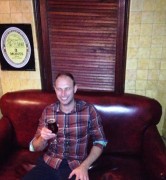 Just wanted to give some feedback on the Master brew course I attended in March.
I have been home brewing for a couple of years and all grain for about one. Having read a few books on all grain, my brews always turned out differently.
Living in Sydney I searched to see what course were available, comparing Costanzo Master Brew course to others was a no brainer to me. It was focused on the Home brewer growing to Microbrewery.
The content set out was very easy to understand and small class sizes meant that questions could be answered in detail. The home brewer is constantly faced with an uphill battle compared to the big boys. For this reason any serious home brewer should seriously consider the Master brew course. Focusing on the main "rules" in brewing, having the experience of doing a full brew at the hotel, my latest brew has been the best so far.
The course also uses the principles and practices to continue every home brewers dream, their own microbrewery.
Vince's wealth of experience in the industry is second to none, moving from each segment of the beer industry, there is a story that he has from each that he has combined in all of the courses content.
-John Szucs -engineer, Sydney Masterbrew course (5/5/2014)
---
Absolute 10/10. I feel I could start brewing and have the knowledge to experiment once basics completed.
-James Kostarakis – Melbourne Introductory Extract course (3/3/2014)
---
Interesting and fun beer course to undertake for all skill levels. Vince is brilliant! 10/10
-Evan McGinty – Melbourne Introductory Extract course (16/11/2013)
---
Hi Vince,
Just about to do my first brew this weekend on the HERMS system I designed and built(new TIG welder helps alot) thanks to your info. I'm pretty sure that with the knowledge I gained from your course and my new set up I will be producing considerably better beer than my dishwasher bowl/forklift method. Will let you know.
– Phil Clausen- Wellington Essentials course (14/11/2013)
---
Hi Vince,
I attended your course earlier this year in Sydney.
I thought you might be interested to hear that my California Common came second in the Amber & Dark Lager division of the national championships held a couple of weeks ago in Canberra.
Regards,
Mark Davies  (14/11/2013)
---
I would like to say that I traveled all the way from Dubai especially for this course. It was my first investment for my future brewhouse/brewpub project. I have learnt a lot in a very nice atmosphere. Vince left no stones unturned to convey to us the real information he accumulated during his professional life. So a BIG THANK YOU, VINCE!
-Bassam Abou Hamad, Melbourne 4 day Masterbrew course (18/9/2013)
---
I am very pleased with the information and knowledge I gained from the course, and aspects of it changed my thinking regarding certain parts of the brew process. Leaning about ways to save money on things such as cleaning and sanitary equipment and products was also helpful.
A good thorough overview of the brewing process from start to finish learned in a relatively short time frame.
The confidence gained will be valuable in terms of a view to set up a small commercial brewery. Score 9/10
-Chris Ormond, Wellington Masterbrew 4 day course (21/8/2013)
---
Hi Vince,
I wanted to send you a quick email to say thank you! Being a simple bloke I was concerned at the cost of your master brewer course and that while I was sure it would be "worth" it, it was a large amount of money for a guy who hadn't paid for education in a very long time.
I can honestly say as a man who has just purchased a micro brewery and is about to go commercial your course is the best investment I have made yet. Put simply anyone who has any intention of making good beer, will need the knowledge and equipment to calculate their efforts and measure their results. Thanks to your course I can do that! I can make great beer consistently! I know that I can deliver my customers the same great tasting beer every time, thanks to you!
To those doubters out there remember what Albert Einstein said.
Insanity is doing the same thing over and over again and expecting different results.
If you don't take Vince's knowledge you are doomed to repeat the same mistakes over and over again. Do the course and become a better brewer!
-Tim Martin, Melbourne One-on-one Advanced course (12/8/2013)
---