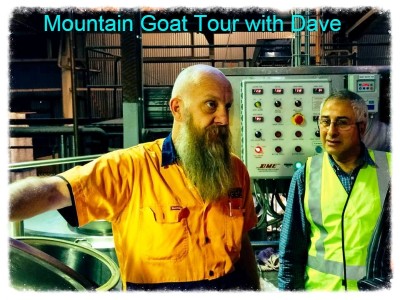 See what the traps are before even considering to set up your microbrewery.
Dreaming of setting up a microbrewery is fine but the actuality of doing so can take its toll and even discourage you finishing the task.

When potential microbrewers approach me, the question I get asked more so than any other is how much it is going to cost them for a microbrewery before asking what it takes to start up a microbrewery.
I believe it should be the other way round.
A first off question should be what impediments and hurdles are likely to be faced and overcome when starting a brewery.
We all know that the craft brewing industry is in a growth stage but jumping on the bandwagon without respect to the challenges is pure folly.
Once you understand the traps and challenges you must face then you can begin to plan how to overcome them and then concentrate on what is needed to service your customers.
Planning includes the production requirements and business model required to deliver your product to the customer.
You should consider what type of equipment is needed, how and what type of beer is to be produced, and then begin a financial and marketing plan to support that.
If you lack any of these skills then find someone that can help.
Head Brewer of Mountain Goat, Dave, said it well to the Masterbrew students on this weeks Brewery tour.
"If you think brewing is easy, forget it!"
It is far better to find out all the ugly things at the start than find them lurking in the closet only to come to the fore to kill your dream once you have made an investment.
This way you are prepared and can plan early on so there are few or no surprises.
This is sage advice.
Mitch Steel from Stone Brewing Company also adds some interesting requirements in their Blog "What makes Great Beer".
In summary he goes on to say you need the following 10 factors to brewing great beer;
sufficient supply of the highest quality ingredients
having a robust brewhouse that produces consistent wort, and having a pure yeast strain and carefully monitored fermentations
having well designed, high-quality, reliable production equipment that is maintained and optimized on a regular basis
a great team of brewers, who understand craft beer, the beer they are brewing, and the best practices and procedures needed to make that beer. Brewers need to be equipped with the education and experience to make smart decisions that are in the best interest of beer quality
having 100% focus on sanitation and cleanliness in the brewery (this has killed many, many small brewers in the past 25 years)
a great team who bottle and keg the beer, who understand the quality that needs to go into every single package, and who know how to respond when quality issues start to appear
a QA team that accurately measures the progress of the beer and reports it to the team, and looks for ways to improve our understanding of what is happening in the brewing, fermentation, finishing, and packaging processes
proper scheduling of the brewing and packaging of the beer, without the beer either sitting too long, or not long enough in the tank, or be short in supply to our sales team, who can then lose valuable handles and shelf space.
having a sales and media team that understands the industry and our beers, and works tirelessly to ensure awareness and deliver the message and vision
having company leadership that encourages risk taking, focuses on taste and quality, supports innovation in everything the company does, listens to and supports creative ideas from the team, and supports all of the above items
Some of these and other requirements are discussed and expanded on in my special report "12 steps to consider when starting up your own microbrewery" and you can have a copy by clicking here.
Starting a microbrewery is one of the most daunting aspect for a homebrewer who is dreaming of going the next step.
But help is at hand and knowledge  in brewing and how to use that knowledge will no doubt either convince you to pursue your great dream or abandon it.
Either way you will be prepared to choose the correct path for yourself.
As one students commented after completing the Masterbrew brewing Course he is ready to go on in his dream;
"Thanks again for running such a great (brewing) course. Really enjoyed the 5 days and has reinforced in my mind that it is a career I would like to pursue." -Andrew
You too can join us for one of the last 2 brewing courses for this year.
The next one is in Auckland in October and the last in Newcastle (Sydney) in November. You can join us for either the one day and/or four day course.
Paul Wickseed, who publishes regular videos and is active in the homebrewing scene in New Zealand, came to see what all the fuss was about in the Wellington course recently.
His observations and review about the course can be seen in his video entitled "learning makes you smarter, here.
By joining us you will learn following 8 keys to brewing;
the jigsaw of making good, consistent beer. This is the cornerstone of understanding what it takes
the 13 myths that abound in brewing circles. Put a stop to all the wives tales that are going around
the 7 secrets to making good, consistent beer. Just what does it take. You will be surprised what some of these elements are even if you are already a microbrewer
Learn to identify faults in your beer and where they come from. You can then eliminate the problem areas
See what the steps actually are before your own eyes by participation in a brew day in a microbrewery
Why is filtration taking on a new meaning in microbrewing and how can you do so in homebrewing at a budget cost
Removing oxygen and looking after your beer after it is packaged is really the number 1 issue that you should be concerned about. In the next decade those microbrewers that don't take this seriously will likely close shop
Tour a successful microbrewery and learn why it was hard at the beginning  and how they became successful
Like many students that have started a microbrewery or just improved their beers at home after doing one of these course in the last 6 years, you too can become one of them by joining us in a relaxed class environment that aims to improve you the knowledge and skills in brewing.
Join us now for the last courses by enrolling today.
P.S don't forget to check out the package deals, one of which will cease after this year.