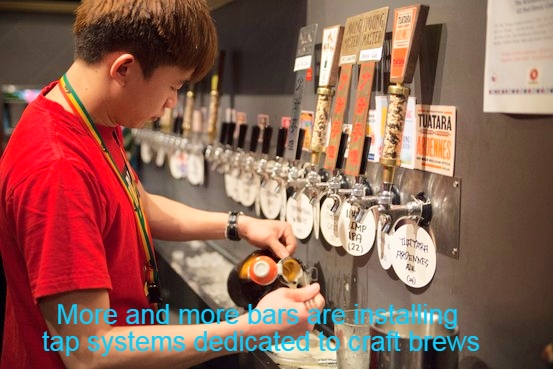 Homebrewing interest and Craft brewing beer are becoming more popular in Asia. China is already the largest consumer of beer in the world so what does that say for craft beer?
A New Era Opens Up in Asia
Craft Brewing gains popularity. Will this be the next beer revolution?
There are a number of changes happening in various Asian countries like Singapore, Japan, Hong Kong, China and South Korea that indicate a new revolution is about to happen in the craft beer movement.
The population of Asia is estimated to be 4,426,683,000 in 2014.- http://www.worldpopulationstatistics.com
China has the world's largest population, estimated at 1.35 billion people according to the same source.
China already produces the largest volume of beer of any country, although the per capita consumption of beer is quite low.
So even if there is a modest percentage growth in beer consumption it equates to very large volumes of craft beer.

This can be a very lucrative market for some entrepreneurs as the population base is huge and even if a mere 1% of that population turns to craft beer in moderation it will mean some 44 million people will be drinking lots of beer.
So What is happening in some of these countries that suggests a boom is about to happen? A snippet of information can be gained from the article found at  http://blogs.wsj.com/scene/tag/craft-beer/ which explains:
In Hong Kong
"Mr. Dugar hopes his brewery, Young Master Ales, will revolutionize the drinking scene in a city where beer has long meant indistinguishable industrial lagers. And he isn't alone. This month, Young Master will be joined by three more Hong Kong breweries making their debut at Beertopia, a craft-beer festival now in its third year."
"After the first Beertopia [in 2012], craft beer just exploded," said Chris Wong, who runs HK Brewcraft, a home-brew shop in Central. "Hong Kong people love trying something new. This is known as a food heaven, so that bodes well for beer."
In Singapore
"Along with Singapore's new-found reputation as a vibrant travel destination with exciting food experiences and buzzy nightlife, it has the added attraction of a thriving craft beer scene. There are 10 microbreweries currently operating across the island, plus dozens of specialty beer bars – and Singapore also hosts the annual four-day Beerfest Asia, which attracts more than 30,000 visitors."-Qantas travel Insider magazine
In Japan
"Craft beer in Japan is entering its second peak. The first came in the late 1990s, following a change in legislation that granted licenses to breweries making a minimum of 60 kiloliters per year. More recently, the volume of craft beer produced in Japan has been increasing steadily since 2005, according to Japan Beer Times publisher Ry Beville,
Though Kiuchi Brewery has made sake since it was founded in 1823, the beverage now accounts for only a small fraction of the company's overall production. Five years ago, the brewery built a new facility devoted solely to beer, and head brew master Koji Tani predicts that another expansion will be necessary soon.
Mr. Tani says the company now sells 12 times as much beer as it did 10 years ago. While domestic sales are growing, exports account for roughly half of the brewery's annual beer output of 1,200 kiloliters. Its sole beer brand is the hugely popular Hitachino Nest Beer, which includes a range of varieties, from red rice ale to weisen and seasonal limited-edition brews. The label can be found in more than 20 countries, with the majority of exports going to the U.S."
In South Korea
"Craftworks partnered with Park Chul, a Korean who had studied brewing in Germany, to supply product. Mr. Vroon and his business partners acted as consultants for Mr. Park's Ka-Brew Korea brewery — in the town of Gapyeong, about a 90-minute drive northeast of Seoul — on recipes. Craftworks took off."
"When baby boomers in their 50s lose their jobs, they have big severance packages and [some] tend to open beer places or coffee shops," says Park Mi-hyang, a reporter for the liberal newspaper, the Hankyoreh, who recently visited Noksapyeong for a story. "So there is potential for small beer businesses."
In China
"With the recent opening of Slow Boat Brewery in Beijing, the city's number of American-style microbreweries officially doubled — to two. But according to both brewers, there's a growing and largely untapped market in China's capital as disposable income rises and beer-swilling residents clamor for more variety at the pub."
Shanghai's Craft Beer Scene Takes Off……………
China already consumes more beer than any other country, and now its hops are getting even hipper. Craft beer is gaining a following in China—Beijing has two breweries, and the smaller Nanjing has one, but Shanghai is where craft brewing has really taken off. – Forbes Travel Guide
What Next
So what does that mean for expats or locals who want to get involved in this lucrative market?
From a business side there is going to be alot of homework required to find out what it takes to setting up a microbrewery and what types of beers will take to the locals.
Secondly, there will be be much to learn about brewing good, consistent beer. The science behind brewing excellent beer is well established but where can you go to learn about brewing?
One of the places presently close to south east Asia is Australia and a well established brewing school has currently been working in the region for many years.
Costanzo Brewing Acadamy has been running courses in Australasia and now has the pleasure of introducing a new series of courses in Singapore next March, 2015.
These short courses are designed for those wanting a solid background in brewing excellent, consistent beer and avoid many of the off-flavours that can creep into their beer. Very well suited for homebrewers or entrepreneurs wanting to venture into the lucrative craft brewing industry in Asia these courses could not have come at a better time.